Cast Iron Enamel Griddle Pan
Cast Iron Enamel Griddle Pan
oem

hebeibaixiang

45days

50pc/day
This pot is characterized by its unique convex lines, which are very deep, each of which has the same height and distance and conducts heat evenly. In the process of use, it can make the moisture of the food quickly flow away and evaporate, so that the meat will not be suddenly heated and crisped, and the excess oil can be removed. The food will not be soaked in the gravy, and finally it will be crisp on the outside and tender on the inside. The most fascinating thing is that his special bulge will form wonderful roast marks on the food materials. Plus the meat press's indentation, it is very sexy and appetizing.
Company Information:
Our factory estabilished on 1996, we main product cast iron cookware with different coating, like color enamel,black preseasoned, wax and black painting.
Our products are main cast iron casserole, cast iron skillet, cast iron grill, cast iron dutch oven,cast iron baking pan, trivet and all the cast iron cookware products.
Which are exported to EU and USA, which pass lfgb en12983 and 21 items heavy metal test and fda and corp65.
Our main clients like Tchibo,roslet,berndes,guinness,CS in germany, Aldi,kitchencraft firechef in uk,gears,sitram,paco,gifi in france, rusta,jula,coolstuff in sewden,Target,wal-mart,sears,homegoods,smarthome,gibson,sportsman,texports,stansport in usa.skrap,pilot,irit,kathusha,bergner,gifel in russia,calasca,nuo in south africa.
30% products sale in eu, 30% in usa, 10% in south africa, and15% in russia, 5% in austrilia 10% in domestic.
Product show: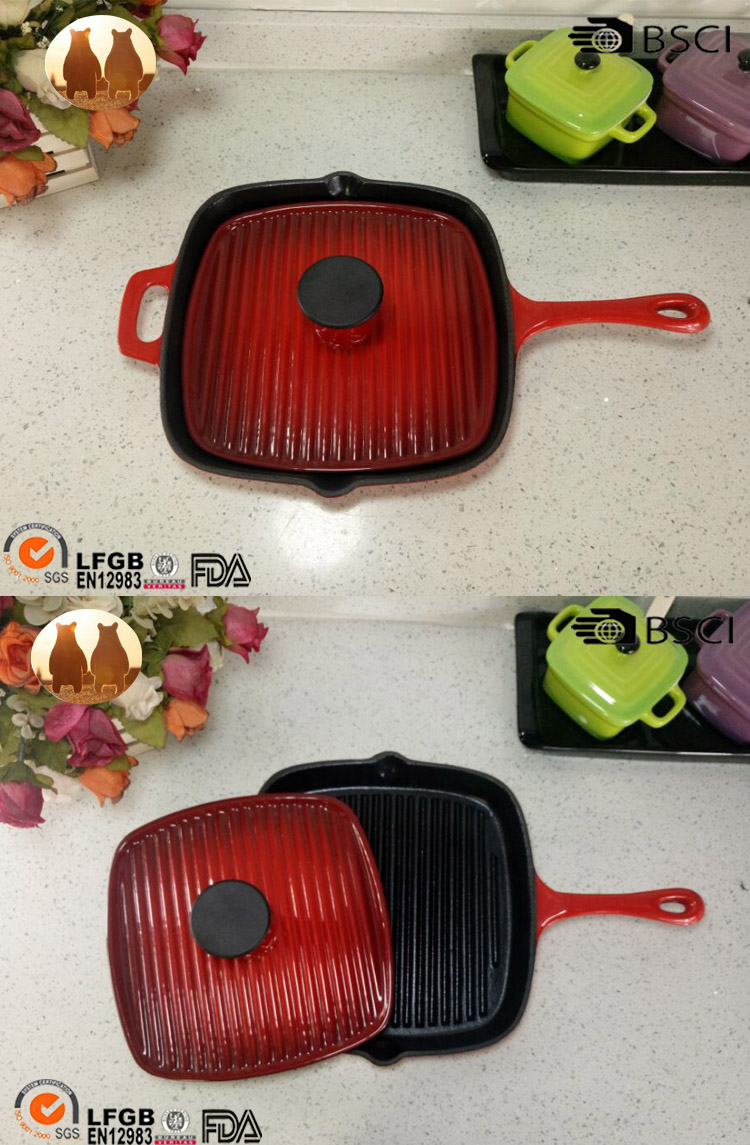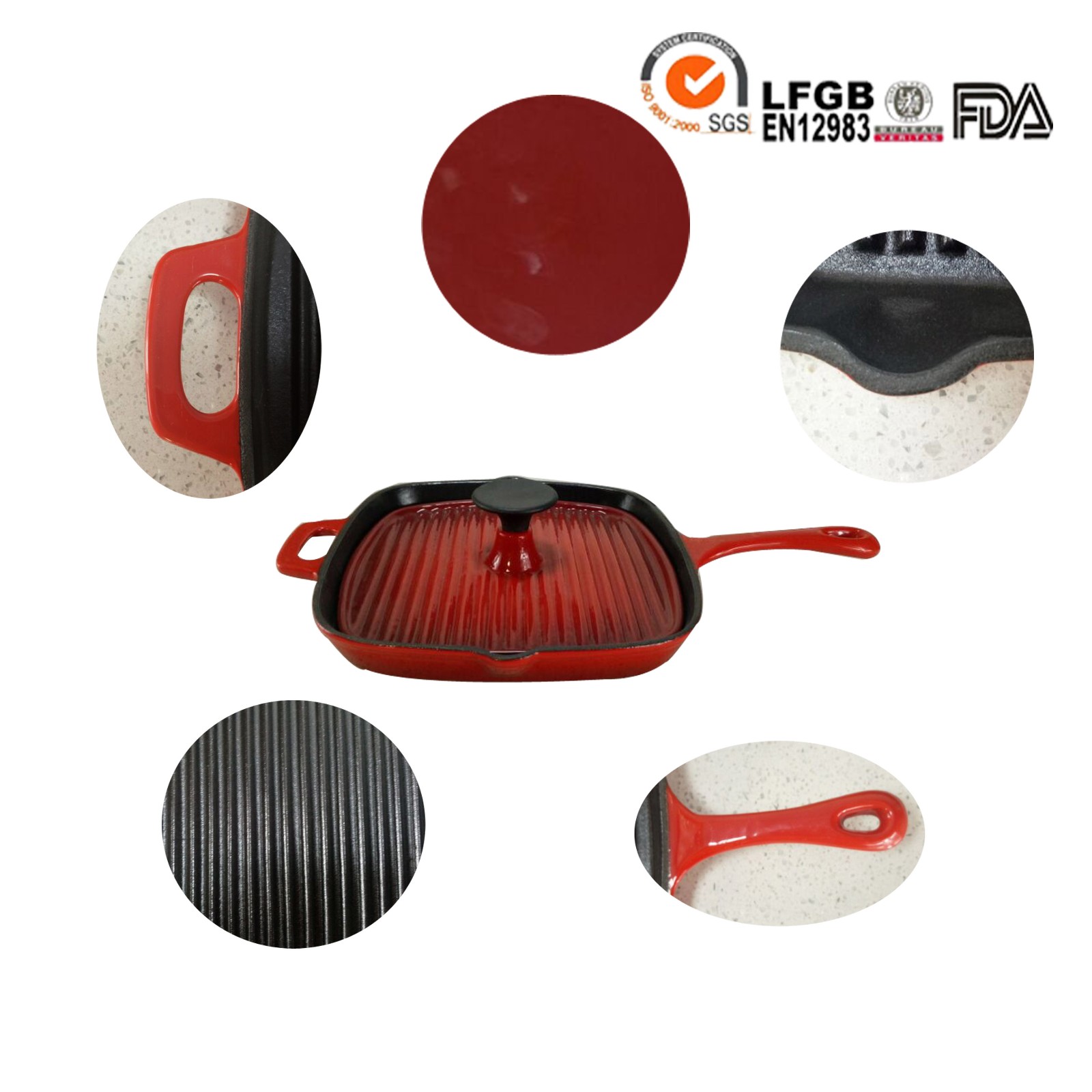 Using manual:

1. Cooking With Cast Iron:
Enamelled cast iron is a remarkable and robust material that fits well with modern requirements for food preparation and cooking.Whether you choose to stir-fry,slow cook a casserole,sear a steak or bake a cake,there is a shape that is suitable.The efficiency and performance for either slow cooking or higher temperature searing is equally good.
Cast iron can be used reliably with any heat source,including induction and with any oven or grill.
It has the ability to retain heat efficiently and this can be used to its advantage in allowing lower settings to be used for stovetop and oven cooking.At the table,a hot covered dish will keep food hot for second servings.
Cast iron can also be used to keep cold food clod.A refrigerator chilled dish and its contents becomes an ideal cold food server on a hot summer's day.It can also be placed in the freezer for food storage,or for advanced food preparation.
2. The Ranges:
The cookware offers a wide range of shapes and sizes to suit your cooking styles and serving requirements.Within the ranges there are two finishes for the interior vitreous enamel-light coloured glossy enamel,or satin black enamel.
The general instructions given below apply to the light finish of the product you have just bought.
3. Cast Iron Usage Guide:
Before First Use,remove all packing and labels.Wash the pan in hot soapy water,rinse and dry thoroughly.
All heat sources are perfectly suitable to cook with the cast iron cookware including gas,electric solid plate or radiant ring,or radiant ring, vitroceramic glass,induction and range ovens fired by gas,oil, coal or wood.
When using any glass topped stove,always lift the pan on and off, or across the surface. Never slide the pan, as this may cause damage to the base as well as the glass.
Always match the pan base size to the stovetop heat zone to maximise efficiency and prevent overheating of the pan sides of damage to the handles. Gas flames must always be confined to the base area and NEVER extend up around the sidewalls of the pan.
Long handles should be positioned safely so they do not overhang the front of your stovetop or over other heat zones.
4. Oven Use:
For type A black phenolic lid knob,the maximum oven use temperature is 200℃/390F/Gas mark 6.
For type B black phenolic lid knob, the maximum oven use temperature is 250℃/500F/Gas mark 9.
Products with integral cast iron handles and /or a stainless steel knob as below can be used at any oven use temperature.
5. Range stoves with cast iron linings:
Do not place any cookware on the floors of the of ovens with cast iron linings. It will increase the cooking temperature inside the oven resulting in an increased cooking rate and may have a detrimental affect on food. Do not drag cookware across the floor of the liners as to avoid damage to your cookware. For best results always place on a shelf or rack.
The light colour inside enamel is particularly suited to slow cooking, on a very low heat source and a medium oven temperature. Black interior enamel is available on all skillets and grill pans,where it is more suitable for cooking dishes that require a high "surface temperature.
MEDIUM and LOW HEATS will provide the best results for cooking, including frying and searing.
Allow the pan to heat gradually and thoroughly as this will give the most even and efficient cooking can be continued on lower setting.
HIGH HEATS should only be used for boiling water for vegetables or pasta, or for reducing the consistency of stocks or sauces. High heats should NEVER be used to pre-heat a pan before lowering the heat for cooking. Cast ion retains heat so well that if a pan is overheated in this way it will contribute to poor cooking results and food sticking.
6. Oils and fats:
The light colour enamel surface is not ideal for dry cooking.Your choice of liquid,oil,fat or butter should completely cover the base before heating begins.Do not leave the pan unattended whilst it is heating and do not allow a pan to boil dry as permanent damage to the enamel may occur.
For any deep fat frying, in a deep pan the maximum oil level must not exceed1/3 full - this depth allows the correct height above the oil for it to rise once foods are added. An oil frying thermometer should be used for safety and a lid should be available in case of the oil overheating or flaring.
7. Food storage and marinating:
The vitreous enamel surface is impermeable and is therefore suitable for raw cooked food storage and for marinating acidic ingredients.
8. Tools to use:
For stirring comfort and surface protection, The pot silicone tools are recommended. Wooden of heat resistant plastic tools may also be used. Metal tools, spoons or balloon whisks may only.
be used with care and should not be scraped over the enamel surface. Do not knock these on the top rim of any pan when removing foods. Hand held electric or battery beaters should not be used as their blades will damage the enamel.
Knives, or utensils with sharp edges, should not be used to cut foods inside a pan.
9. Handles:
Cast iron handles or stainless steel knobs will become hot during stovetop as well as oven use. Use a dry thick cloth, or oven mitts, for lifting these at all times.Maintain the tightness of all handles and knobs by checking and retightening them regularly.
10. Cleaning & Care:
Always cool a hot pan for a few minutes before washing in hot soapy water,rinsing and drying the pan thoroughly.Do not plunge a hot pan into cold water.While The pot's enamel is designed to be the most durable on the market,thermal shock may still occur, resulting in cracking or loss of enamel.
If there are food residues, fill the pan with warm water, leave to soak for 15-20 mins and then wash in the usual way.
Nylon or soft abrasive pads or brushes can be used to remove stubborn residues.Do not use metallic pads or harsh abrasive cleaning agents as these will damage the enamel.
Some marks can be removed with the cookware cleaner available at your local retailer. An occasional conditioning clean with this product will also retain the new appearance of your pans.
Never store pans when they are still damp.Store pans in a dry cupboard or airy space away from steam.
The enamelled cast iron is extremely durable but it may be damaged if accidentally dropped 0r knocked against a hard surface. Please note that this is not covered by our Lifetime Guarantee.
11. Dishwasher:
All pans with integral cast iron, phenolic handles or stainless steel knobs can be washed in the dishwasher. However,constant dishwashing may lead to some dulling of the enamel finish. This is not harmful and will not impair performance.When using the dishwasher always allow the cycle to finish before opening the door. This will ensure the pans are dried thoroughly.
Thank you for your purchase and we hope you will enjoy your cast iron cookware for many years to come!
Test repost: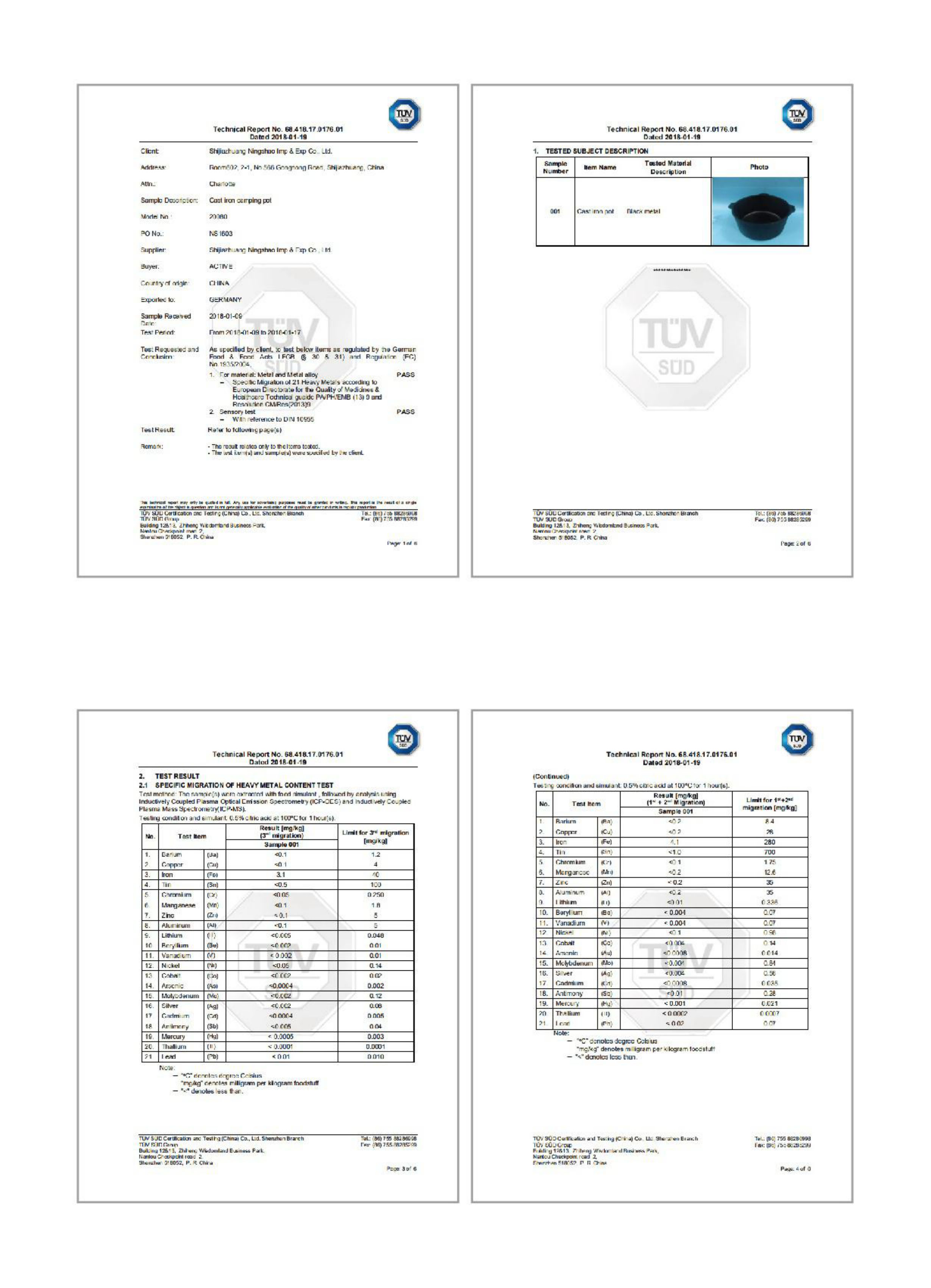 Production flow: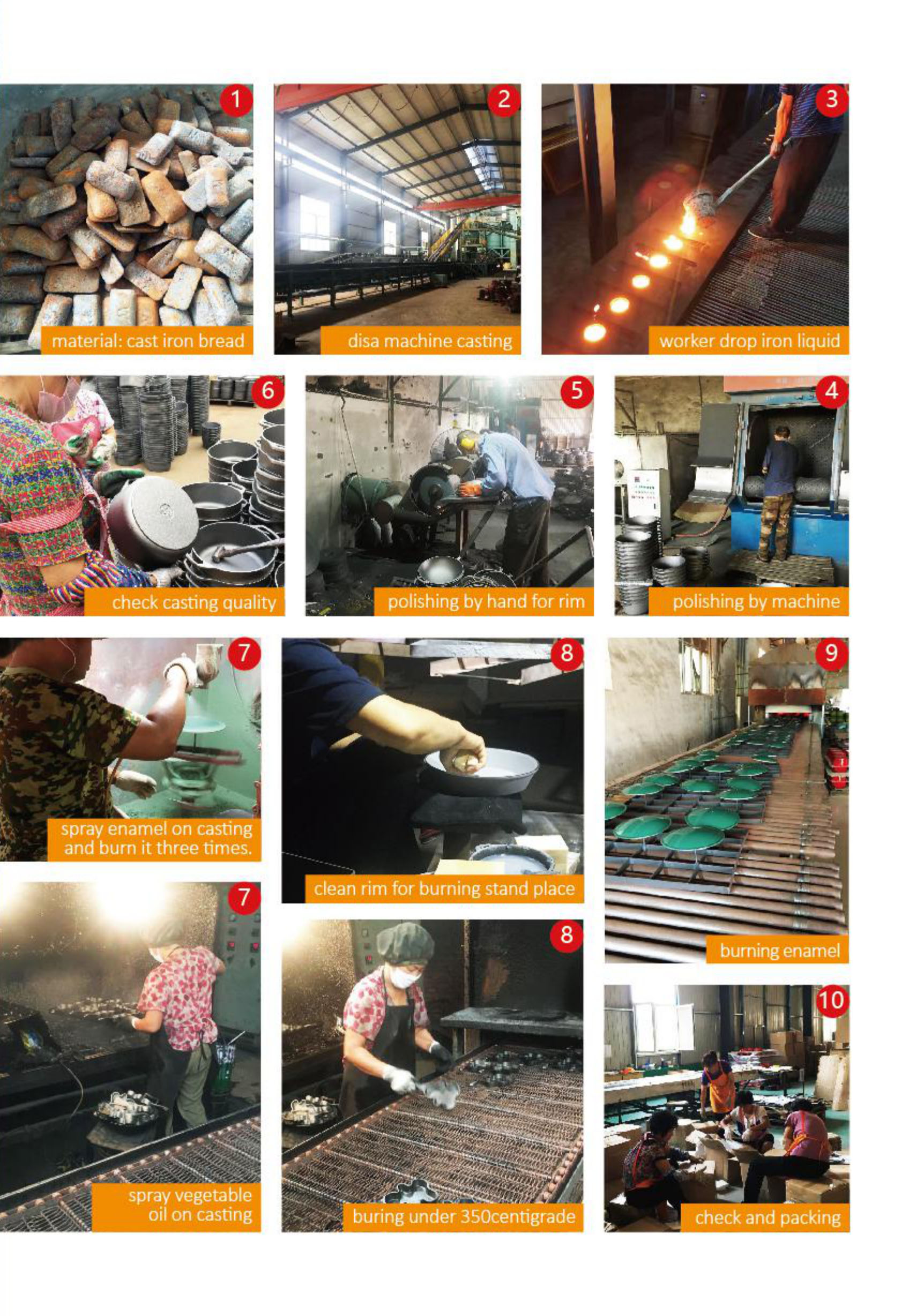 Packing&Shipping: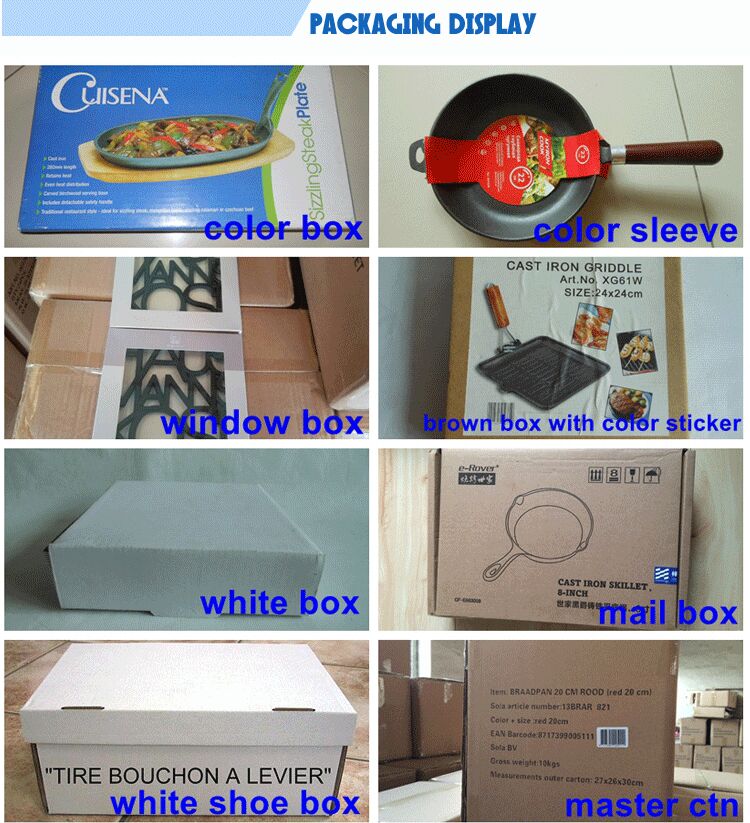 Contact information: